Something has changed.
After years of getting TBB speed test results way below my actual speed I am suddenly getting results near my paid-for speed. Also the difference between the single and multi-thread tests is much reduced.
Does this mean that the TBB connection to my part of the VM network has been improved after so long, or has the quality of my own connection suddenly improved?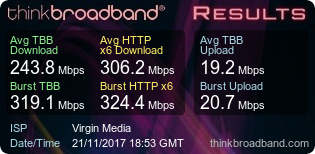 Virgin Media: 300Mb/20Mb , land line, mobiles x4, TV - VIP HD box + TIVO 1Tb box. Superhub3 in modem-only mode. Using RT-N66U router.