Im on FTTC 80/20 and I get full speed with a 300M line length. Montfort Exchange Leicester.
I was with PN for 3 years but changed to Cloudscape last year due to PN price increases and their service deteriorating.
I don't know anyone locally on FTTC, all are either Virgin or on ADSL.
All was well for a few months but now I am starting to see what I think is congestion at peak times. I see slow single thread speeds, buffering on VOD and general slow browsing and failed loads of webpages etc.
I am seeing speeds down to sub 5Mb and lots of dropped packets on TBB ping monitor.
Please see the attached speedtests and TBB graphs.
I have reoported it to Cloudscape, after a few days they have reported it to BTO and their carrier. I await any response.
Anyone else locally seeing any issues?
Thanks
My Broadband Ping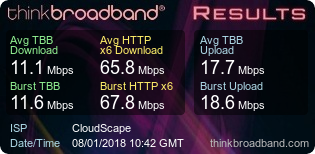 This was a speedtest just after I migrated, single thread is much better.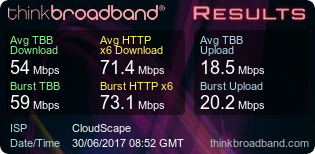 I also cant get the BTO speedtest to complete the "further tests" test, I just get an error, do I have to login with the test login details for this?