Hi All,
We have been on the maximum BT FTTP packaged now called 'Superfast Fibre 4' since getting FTTP in mid 2017.
Recently, I have noticed significant peak time slow downs and high average and maximum latency from the BQM
BQM
5th August 2018
BQM
16th September 2018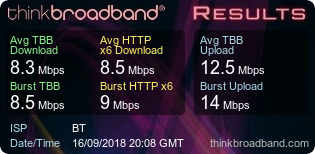 Is this likely a contention issue to be reported? Anyone experienced speeds this bad on FTTP?
Looking at the BQM, it started becoming this extreme from the 28th August.
For reference, I am on a gigabit wired connection to our UniFi USG-3P with DPI and IPS disabled.