Hi folks.
Been with Uno Broadband (partial LLU via TalkTalk equipment) since 2012 and on the whole things have been fine.
Pretty predictable 11Mbps download sync (around 0.8 Mbps upwards), 6db downward noise margin and 38 db attenuation. So around 9/9.5 Mbps true download. Currently still looks this way.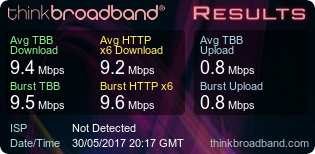 But recently, pages on the internet have started to take ages to load, like they're fighting their way through treacle. And sometimes they even time out and it can't seem to resolve their internet address at all. This applies to both a PC connected via Ethernet cable and a wireless connected laptop.
Checked Windows event viewer and there appeared to be the odd code 1014 DNS Client Events. So after speaking to tech support at Uno, I set the DNS servers to point to the Google ones. No joy. Still slow building pages on the internet, seems for some reason to be worse on the wireless connected laptop for some reason (don't know why!).
I've tried powering down the router and leaving it for 10 mins or so, but it doesn't seem to make any difference. The router is a BiPAC 8800NL R2 that was bought to replace an aging TPlink one that seemed to have overheating issues. The Billion has been fine up to now, very stable.
There have though been a couple of times that I've run the BT speed test (mainly because it's a quick one to run) when things have been VERY slow and it "appears" to have shown a poor download speed (around 2 Mbps) and the upload has almost appeared to be none existent (< 0.04 Mbps!). But a couple of minutes later, if run again, speed test appears OK. Though Internet pages still loading slowly. Router stats at this point still appear fine though (IE. stable line and not too many real errors logged).
Bit stumped really.
Anyone got any ideas???
Likely to be the router? or problems at the exchange etc.?
Thanks in advance.
PS. Sorry it's a little rambling post, just trying to give as much info as possible.
PPS. Always have Router Stats lite running, so I can see that the connection appears fine and no line drops etc.
----
Mike