Well it's coming to that time of year again. My line rental saver with BT is going to end soon and thought I would look at plusnet.
After reading this thread I am not impressed at all.
http://community.plus.net/forum/index.php?PHPSESSID=...
It seems PN don't have a clue about their own products, confusing terms and conditions and not really competitive at all.
If you take PN line rental saver, you get no free weekends at all. BT offers it and you get caller ID free as well.
BT may cost 75p more but you get free weekend calls, caller ID, which cost £1 with plusnet. Why can't PN do something like that? I would have to pay £1.50 eve and weekends, which still cost more that BT.
I'm not even sure I would get a good deal on broadband and phone with a 12 month contact.
PN really need to sort themselves out and start offering decent competitive products.
Plusnet Extra Fibre.
I don't use wireless and is disabled. Current Router = TL-R402M
Line stats
http://forums.thinkbroadband.com/plusnet/f/4203678-m...
http://s6.postimage.org/o0nvpdeo1/See_red.png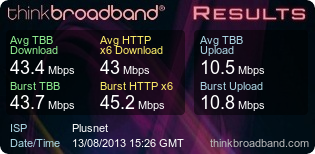 Edited by superspeed (Sat 01-Feb-14 18:38:10)