Hello,
I've switched to the Sky Fibre Max product and was guaranteed a minimum of 44 mbps. The router is receiving around 55 mbps according to the stats page though i'm only pulling around 26 mbps on a wired sppedtest through the test socket. All wireless connectivity is switched off. Graph below: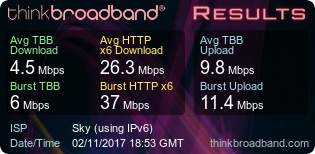 Openreach have been out 3 times, changed faceplate, reset the line and switched the ports in the cab and switched the line from the cab to the junction box in the street.
Any ideas? Am i best to revert to the standard fibre product as i'm not seeing much if any improvement.