Hi folks I'm hoping someone might have some ideas about my issue as even though BT have scheduled a 2nd Engineer visit for tomorrow I find myself sceptical of their ability to fix my DL speeds
speedtest below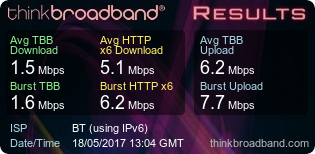 Now when i had this broadband installed I was getting 60-70 DL and 20 UL now according to a raft of tests its down to 1.7DL (bt Wholesale) or 3-5DL on others but UL is unaffected?
The 1st BT engineer fixed 2 faults in our local cabinet and we got a new Smart Hub 6 and the hub and line tests from BT confirm we're getting 78 DL Sync and 20 UL Sync
This Engineer also confirmed on his own laptop what we are getting and postulated that a of section of BT's backbone that we are on is running hot which is why we cant pull the correct speed. The support technician over the phone just now though stated it was implausible and scheduled another engineer.
All I want to know is what is going on?
Thank you for any insights provided