I set up the graph using an IPv6 address (I'm on BT). There are random periods of packet loss and higher ping:
My Broadband Ping
I then did an IPv6 speedtest: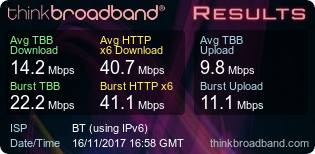 And with IPv4: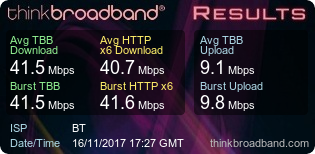 The fast.com speedtest, speedtest.net etc are fine, and I can ping various IPv4 and IPv6 destinations with a perfectly normal latency from multiple of my machines and my router itself. I've also used some web based "looking glasses" to ping the IPv6 address with good results. Basically the only questionable stuff is on the quality graph and single thread IPv6 speed test at TBB. So I'm really asking, are there problems with IPv6 at ThinkBroadband or somewhere on the route to it from me?
Edited by sawre (Thu 16-Nov-17 17:28:23)