As I saw a good deal on BT Infinity I thought I would order it or so I thought (Infinity 1 Up to 52Mb). When I go through the order process and enter my telephone number and postcode/address etc. I get the message that 'BT Infinity is not available to you'. Instead I get offered something called 'Faster Broadband' at a very expensive price.
Now I already have a FTTC connection with Plusnet and my current speed is: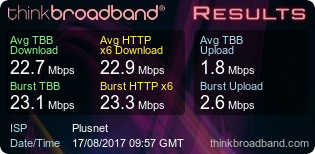 The DSL checker says that it is available also:
http://i.imgur.com/7jwFrZd.jpg
I have called BT on 2 different numbers to try and find out why they won't offer me Infinity. The first person I couldn't understand their Scottish accent very well but couldn't give me an answer but said he would find out why, I was then transferred to someone else who turned out to be Openreach and unsurprisingly wouldn't help me. Second call same nonsense replies as to why I couldn't get it saying BT had no capacity for me.
Now from what I can find out is that Infinity is not offered to anyone with a speed of 15Mb or below but I get a speed higher than this. Also my cabinet appears not to be full as it says it's available. In any case as I already have a FTTC connection I thought it would be a case of a new ISP taking it over?
Anybody able to advise whats going on?
From the poor response I have had from BT perhaps it's a message telling me to stay clear!