Following on from
here
where BT almost sold me FTTPoD 330/30 for a 'bargain' £150 pm with zero construction charges, I went with Fluidone/Fluidata in the end. In order to help others who are thinking of going down the FTTPoD route, I will describe my experience and the various stages involved in the build process. It was a relatively straightforward install (despite some hiccups at the end!) but as many of us know Openreach can botch up even simple bespoke installs, so I was a bit apprehensive at the beginning.
I ended up paying £3700 in construction charges (band D) and £300 pm in rental charges on a min 3 year term after which I can take out a native FTTP service at a lower price. At present Fluidone are the only ISP selling the Openreach based FTTPoD service. If you live in SW England/S Wales then Spectrum Internet may also be offer you the product provided they have LLU'd your exchange. But obviously living in the Scottish Highlands, Fluidone were my only option.
The service was ordered in mid February 2017 and finally went live yesterday so took nearly 4 months which was within the initial estimated timescale of 2-4 months given by Openreach to Fluidone at the beginning. Fluidone were pretty good and kept me in the loop all along, their 'Service Delivery' team (thanks to Ana, Roxana & Adina) were very pro-active and provided weekly email updates. Based on their correspondence, these were the build stages after I placed the order:
1) Survey
This was carried out 3-4 weeks after I placed the order. An Openreach Surveyor came around, had a poke inside the home & took loads of photos inside & outside the home. He followed the existing duct routes to the nearest aggregation node (~800m away) looking out for any possible obstructions and other bits and bobs. Based on his report, there were no Excess Construction Charges (ECCs) so the order went ahead as planned. Its important to remember that if ECCs do apply after the survey, then you have the option of cancelling the order without paying a penny - otherwise penalties may apply. Also be aware that Openreach will not install the service to a Multi Dwelling Unit (eg block of flats) for obvious reasons - this will normally be flagged up at the quotation stage.
2) Test Rodding of Existing Underground Ducts
Over the next few weeks, I saw Openreach shoving rods/poles/cables down various manholes and outside my home checking for any obstructions in the U/G ducts. My home was built in 2008 so the ducts aren't that old but I imagine blocked ducts could add significant delays to the timescales. Test rodding was completed without any issues.
3) Cabling of route
Openreach had to back order the fibre cabling as they had insufficient stock at their Inverness depot, this took around 3 weeks. Once cable supplies arrived, it took around 10 days to lay the fibre. Again this went smoothly.
4) Jointing Works
Once the cabling was in place, it had to be spliced along with the necessary work at the exchange & installation of Customer Splice Point (CSP). For some strange reason Openreach also did the internal wiring and fixing of ONT during this stage which had me excited prematurely. Jointing works took around 2 weeks in total.
5) Testing of FTTP circuit & allocation of Circuit ID
This involved the engineer going with his meter gadget and checking the signals at various points in the PON network, eg CSP, DP, splitter node etc. Once testing was completed successfully, the BT/Openreach line checker for my address changed from FTTPoD to native FTTP and a circuit ID was issued for my line:
https://postimg.org/image/isc1wd2a5/
6) Installation of internal wiring/ONT and activation of service
An Engineer arrived a few weeks later (was surprised to see the ONT & internal cabling already installed), spent a few minutes activating the ONT using its serial number and bingo the PON light changed to a solid green. However my router (Netgear R9000) wouldn't establish a connection to the ONT and neither would the spare one from the Engineer. After further investigation it became clear the service required PPPoE authentication to Fluidone's Radius servers (despite the carrier being BT Wholesale) so had no choice but to use the ISP supplied Juniper SRX300 firewall between my router and the Openreach ONT. Its a horrible lump of metal which I could do without (missus was so incensed by it she threatened to rip out the external fibre CSP

but after some cajoling she calmed down LOL) however its not interfering with my router's activities, eg no double NAT or neither is it doing any DHCP routing so may have to bear with it.
Once the correct hardware was hooked up, I finally got a connection. However speeds were shocking initially (ala dial-up) and web browsing was painfully slow, but a few hours later Fluidone made a few config changes at their end and speeds were more respectable. For some strange reason TBB speedtest results are weird and I never get more than 300 Mbps: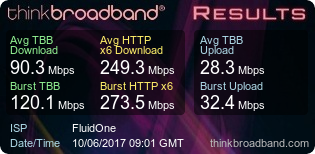 However, speedtest.net and speed.io and give me the full whack 310/30 so I'm not too fussed about the TBB results. More importantly (?!) torrents download at the full 40 MB/s so can't complain too much. Pings aren't brilliant @ 20ms but living in North Scotland means I'm never going to get ping times in single digits, even on a FTTP service.
http://www.speedtest.net/my-result/6366208787
Overall the install went smoothly and I didn't really have anything major to complain about despite the hiccups at the end.
Prior to placing the order with Fluidone, I was chatting with Zen Broadband Sales and they told me they weren't selling FTTPoD anymore due to their poor experience with Openreach, even relatively simple installs were taking as long as 18 months. I guess AAISP decided to discontinue FTTPoD for the same reason - see
here
for a FTTPoD install experience on AAISP a few years back. However, if (and its a big 'if') Openreach have now improved their deployment process for FTTPoD, then it would be great if the likes of Zen, AAISP, IDNet et al could look into selling the product again. This would probably drive prices down, not by much as FTTPoD is still a premium/niche product but it would be good to at least have a choice of FTTPoD providers -for the Openreach based service that is.
Some photos of my install:
https://s18.postimg.org/n3s26bdop/IMG_001.jpg
https://s18.postimg.org/76ta9llah/IMG_002.jpg
https://s18.postimg.org/nvuq5ihvt/IMG_003.jpg
https://s18.postimg.org/h6o6phwjt/IMG_004.jpg
https://s18.postimg.org/rurxoc6ix/IMG_005.jpg
https://s18.postimg.org/69mv0q9s9/IMG_006.jpg
Hope this helps, any questions fire away

------------------------------------------------------
Fluidone FTTP On Demand 330/30 Mbps
Powered by Netgear R9000 X10
------------------------------------------------------
Edited by baby_frogmella (Sat 10-Jun-17 11:55:45)