Update: I found an issue on my home network. I recently updated the hubs to new 1 gigabyte ones, from older 100mb hubs. There are 5 of these in the house to distribute Ethernet to everywhere needed.
One is sat on my dining table and is connected to two PC's we bought a few months ago to set up a radio station. It runs on both PC's at the same time but, thanks to Windows 10 updates and so on, I realised I could not rely on one PC staying up forever. So both run, the same software, the same schedule, and both try to connect to the streaming server, but only one can at a time.
That works fine for me as when one goes off the other takes over until I can get to reboot the one that's gone down. They don't reboot after the update, they lock up. The screen displays whatever was running at the time, usually the radio program which displays the time it went off.
Since changing the hubs I've noticed that my entire network then fails, I cannot connect to the Internet from any PC, the VOIP phone goes out of service, the TV box cannot connect to EE so fails to record things. I cannot 'see' other PC's over the network. It's all down until I reboot the failed PC. It didn't do that with the old hubs.
Then today I found that the network card (on the motherboard) was using a generic Micro$oft driver, so I've replaced that with the proper Intel one in the hope that will fix the lock-ups. (one just failed, and locked the network so no, not fixed)
Then I tried a speed test, hoping that it was linked to the same issue - erm, perhaps not...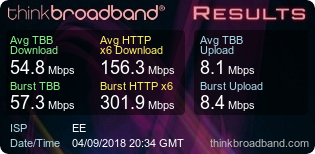 EE Fibre Plus