Interesting, thanks for the update.
Do you have a quality monitor set up on your line? This is a snapshot of mine over the last 24 hours:
My Broadband Ping
Would be interesting to see how yours now compares.
And a current speedtest, which we will all agree is dross for a 78mb service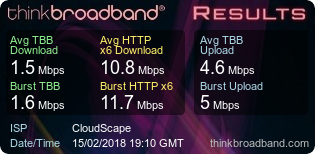 I believe my migration is schedules for 27th Feb, but considering just ordering another product to be honest if the improvement is so little your side.