Collective,
I would strongly recommend avoiding this service. My performance this evening is atrocious with speeds like this: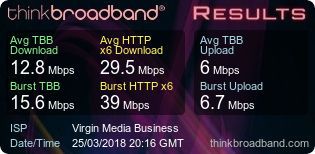 Alongside 100ms of jitter.
My shiny, new local network is increasingly overloaded, and the equipment handling the static IP address block, both the router on my side and the GRE kit at VM that terminates it, are not fit for purpose. Between those it sucks.
BQM
This is the most expensive Internet connection I've purchased. It's also the worst since I had a 7km long ADSL2+ line..It should be 200Mb as they never installed the capacity to make 350Mb over Voom Business avaiable and is managing a little over 1/10th of that.
Even in offpeak times the best I can get is 100Mb out of the 200Mb over speedtest.net, 16Mb actual download speeds and 10-15ms jitter,