Hi,
I've just switched from BT Infinity to Zen and I've noticed a strange problem with my speed. The modem is syncing at a reasonable speed (around 64 to 66) and some speed tests show about that speed. However, individual downloads (app updates, for example) seemed slow.
Having done some testing with downloading some largish files from various places (Linux kernels, etc), it seems that I'm getting significantly less speed than the DSL line is capable of.
The speed test on here does seem to show the discrepancy, but I'm not exactly sure how to interpret the results: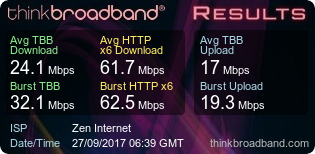 https://www.thinkbroadband.com/_assets/speedtest/but...
From looking at other people's results, it seems like mostly the TBB number and the HTTP number are the same, but as you see, mine are wildly different.
I've asked Zen about it and sent them some results. They asked me to run a speedtest on their site which also shows the discrepancy between a "custom download" and an "HTTPx6" download. (14.50 Mpbs vs 60.42 Mbps).
So any idea what the two tests are measuring and why there is such a large discrepancy?
Thanks,
Mark
Edited by melevittfl (Wed 27-Sep-17 09:55:00)