I have been trying to find my old BQM graph I retained when I was with Zen unfortunately It's gone from my desktop and back up files. Historically I also couldn't find it within the BQM page either, after the website was updated I could no longer access them. Since been deleted by myself.
I want to throw some backing into the ZEN saga that is affecting people yet again regarding the single thread issue.
I was a zen customer for about 9 years and would defend their quarter as they were a distinctly rock solid ISP, not the cheapest and not the most expensive either.
I found that after they introduced the unlimited option on some of the product range the service started to slip.
Long story short... I moved my ISP from ZEN to another seller and told my new provider NOTHING about previous congestion problems. The same congestion problems that ZEN would not admit to being a problem and was present at migration.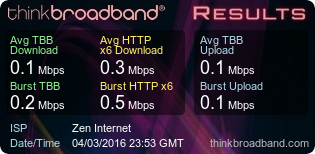 Now there was NOTHING wrong with my line according to ZEN. I think the graph above will disagree.
I have a few ping charts and other screenshots if needed.
I moved to another provider and for nearly 2 lonnnng years I have used and sometimes abused their service and it has been faultless.
So anyone thinking ZEN is still top of the tree think again, don't get blinded by loyalty as I did. The grass is indeed greener on the other side!!!
I only put this on here as sometimes the people that post often frequently get harassed by others.