Just been noticing terrible performance on my Zen FTTC connection and having rebooted all my equipment, I found this thread after doing the following speed test.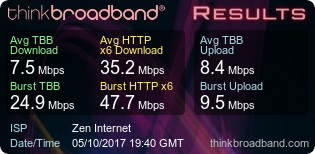 It's the upload speeds that are killing me as I make a lot of use of cloud storage. Normally I see a solid 20Mbps uploads and 60+Mbps downloads regardless of time of day. My line sync is 74.69/20Mbps (down/up).
I'll report this to Zen support in the morning because this is completely unacceptable. I would appreciate any help Zen staffers can offer to get this resolved.
Just to add, I notice from the Zen Portal line data page that my line is using "Talk Talk Business" line technology. Is this a recent thing because I'm pretty sure I was using BT Open Reach not so long ago. Do TTB only handle the back haul and BT handling the copper or what? Can someone explain who does what briefly? I'm an electronics eng and computer consultant so I promise I won't take much explanation.

Z
e
N
Zen Unlimited Fibre 2 up to 76Mbps (Typ. 56Mbps dn / 20 Mbps up)
Apple Airport Express + Time Capsule
Apple Macbook Pro Retina/ iPad Air / iPhone 5
Edited by craig1410 (Fri 06-Oct-17 01:07:07)